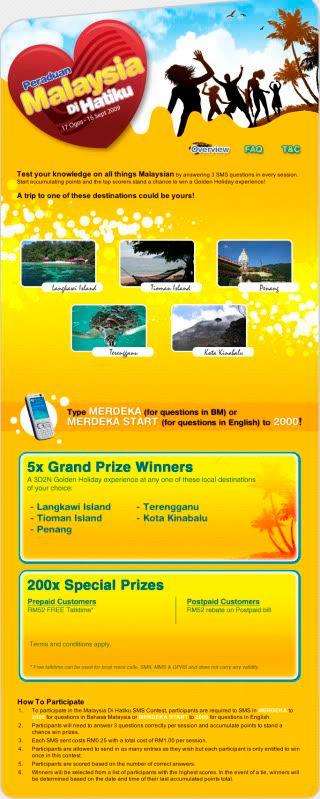 TITLE: DiGi "Malaysia Di Hatiku" SMS Contest
PRIZE: Grand Prize x 5:
3D / 2N Holiday at any one of these local destinations:
– Langkawi Island
– Tioman Island
– Penang
– Terengganu
– Kota Kinabalu
Special Prize x 200:
– Prepaid customers – RM52 FREE Talktime
– Postpaid customers – RM52 REBATE on Postpaid bill
DEADLINE: 16th Sep 2009
WEBSITE/URL: http://www.digi.com.my/whatshot/promotions/merdeka/index.do
DESCRIPTION:
Take part in the DiGi "Malaysia Di Hatiku" SMS Contest and stand a chance to win:
Grand Prize x 5:
3D / 2N Holiday at any one of these local destinations:
– Langkawi Island
– Tioman Island
– Penang
– Terengganu
– Kota Kinabalu
Special Prize x 200:
– Prepaid customers – RM52 FREE Talktime
– Postpaid customers – RM52 REBATE on Postpaid bill
Terms and conditions apply.
Visit website for participation details.
Call 016-221 1800 for enquiries.