Welcome to the MYEG Catch Your Best Shot on SportsCenter Competition! Our mission is to feature the world's most exciting sports videos from YOU! If you have any original sports clips* which you can't wait to show the world, simply submit it to us via the video uploader.
We welcome videos on all forms of sports action! The most interesting sports video will be selected to be featured on SportsCenter Malaysia PLUS you will get to win tons of fantastic prizes including a grand prize trip to the 2009 UEFA Champions League final in Rome!
PRIZE: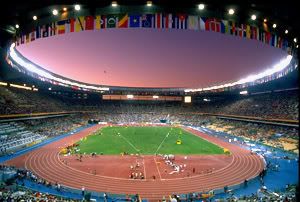 Register now to start uploading your videos! Contest ends 30th April 2009!
*Participants who upload any video must own the necessary rights (including copyrights, trademarks, rights of publicity, and any other relevant rights) and that they will be solely responsible for their video content.
How to Upload
Register online before uploading your videos. If you have already registered, log in and submit your videos!
Fill up the necessary information and browse your video from your local drive. Simply click the upload button and wait for the video to be uploaded!
Yes, it's that simple! Don't miss the opportunity to catch your best shot on SportsCenter!
Each month, ONE lucky winner will walk away with attractive premiums from ESPN STAR Sports worth USD100.
At the end of the contest, the participant with the most interesting sports video will win a trip for two to the 2009 UEFA Champions League final in Rome! (Including economy class return air tickets, accommodation and match tickets)
DEADLINE: 30 April 2009
WEBSITE/URL: http://www.espnstar.com/myeg/