TITLE: [ONLINE+PREDICTION] 9Predict
PRIZE: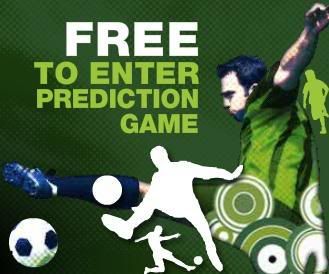 8 people made 7 out of 9 correct predictions on the weekend. "cw1106" is the most significant mover up the Leaderboard, climbing to equal 12th position. He now has a big chance of winning RMB 5,000.
9PREDICT is giving away free "9" logo lucky red caps. Make sure you submit your predictions and that your postal address is correct to receive your free prize.
The Chinese New Year Lucky Draw is held on January 26th 2009. The prize is an expenses paid trip to watch Manchester United v Liverpool at Old Trafford in March. This is your last chance to enter simply by submitting your soccer predictions.
PREDICT NOW!
To take part in "9 Predict", simply register your personal details with a valid email address. You will need to confirm your email address via an activation link in order to take part.
When new sets of questions are available for participants to predict on the various outcomes, this will display automatically on the site's prediction page located at 9predict.com. Participants may make predictions up to 3 weeks in advance.
For each successful prediction, you will be awarded a set number of points for each correct result in the following manner:
September 2008 – 1 Point Per Correct Answer
October 2008 – 2 Points Per Correct Answer
November 2008 – 3 Points Per Correct Answer
December 2008 – 4 Points Per Correct Answer
January 2009 – 5 Points Per Correct Answer
February 2009 – 6 Points Per Correct Answer
March 2009 – 7 Points Per Correct Answer
April 2009 – 8 Points Per Correct Answer
May 2009 – 9 Points Per Correct Answer
Points awarded may be altered at our discretion and will be advised accordingly on our website.
Points will be awarded based on the outcome of the event on the day of competition. Overturned results subsequent to the day of the match will not be entertained.
The closing time for each week's predictions is 5 minutes before the scheduled start time of the first match for that round. You can amend any previously made predictions up to 5 minutes before the start of that week's 1st match.
This Competition is open to people who register with us who are aged 18 years and above excluding employees or agents (and any member of the family of such persons) of "Edentix Sdn Bhd" or any of its affiliated companies or any suppliers connected with the administration of this competition.
Only residents of the following countries are eligible to participate in this competition:
* Brunei Darussalam
* Cambodia
* China
* Democratic People's Republic of Korea
* East Timor
* Hong Kong
* Indonesia
* Japan
* Lao People's Democratic Republic
* Macau
* Malaysia
* Mongolia
* Palau
* Papua New Guinea
* Philippines
* Singapore
* South Korea
* Taiwan
* Thailand
* Vietnam
There is a limit of one entry per person and "Edentix Sdn Bhd" reserves the right to exclude you from this competition if we believe you have tried to enter by using more than one account or are otherwise engaging in any fraudulent or illegal activity (including participation that would be in breach of the law in local laws in the members jurisdiction), whether or not you would have won any prize but for such activity.
The winning entries will be those with the highest overall number of points after the playing of the final match of the 2008/09 football season, namely the 2009 UEFA Champions League final. The decision of "Edentix Sdn Bhd" will be final and correspondence will be entered into only at the discretion of "Edentix Sdn Bhd". No liability is accepted for entries that are not received for any reason by "Edentix Sdn Bhd".
The winners will be announced on our website at the end of the competition and will be notified personally via email as soon as practicable after the competition end. We will require the entrant to conduct the appropriate KYC (Know Your Customer) checks in order to ensure the person is of a legal age.
If the winners cannot be traced after reasonable efforts have been made by "Edentix Sdn Bhd", that winner will forego the right to claim the prize and "Edentix Sdn Bhd" will arrange for the prize to be awarded to the person with the next highest number of points awarded during the competition.
There is a total prize pool of RMB 250,000 which will be divided among the top 50 participants in equal amounts of RMB 5,000 each at the end of the competition.
Occasionally, there will be "Bonus Rounds" open to all participants. Additional prizes of trips to the UK/Europe to watch English Premier League or Champions League football will be offered.
"Edentix Sdn Bhd" will bear no responsibility or liability in relation to any loss or damage that you incur in relation to but not limited to travel undertaken if you are a winner of a prize.
You shall indemnify "Edentix Sdn Bhd" and its affiliated companies, and each of their directors, employees and agents against any action, claim, loss or expense which may be incurred from receiving any prize.
In the event that you are a winner of any prize, you agree to the reasonable use of your name and image on various websites and in promotional materials produced by or on behalf of "Edentix Sdn Bhd".
All entries will become the property of "Edentix Sdn Bhd" on their receipt. You hereby assign any and all copyright or other intellectual property rights in your entry to "Edentix Sdn Bhd" for its unrestricted usage and agree to do all such acts and/or execute or procure the execution of all such documents in a form reasonably satisfactory to "Edentix Sdn Bhd" to confirm that "Edentix Sdn Bhd" has full ownership of such rights.
"Edentix Sdn Bhd" in its sole discretion reserves the right to withdraw or vary the terms of this competition at any time, including if required to do so following an order to comply with the decision of any relevant judicial, governmental or regulatory body and shall not be held liable to any entrant for so doing.
"Edentix Sdn Bhd" is the Promoter of this Competition. Any use of the company's registered trademark and/or logo or trademarks/logos of affiliated companies requires the consent of the relevant intellectual property owners.
You may view content or print a copy of the material found on this Site for personal and non-commercial use provided you do not modify the content in any way. Unless expressly stated otherwise, you are not permitted to copy or republish anything you find on the Site without the copyright or trademark owners' permission.
DEADLINE: N/A
WEBSITE/URL: http://9predict.com/?q=en