Winning is easy with BIC®. Attractive prizes to be won every fortnight plus a chance to win a 4 days 3 nights trip to Paris for two. Feeling lucky? Look inside your pack of BIC® shavers with your lucky number on it.
Simply compare your lucky BIC® number with the winning number above to see if you are the winner for this fortnight. Does it match? If yes, Congratulations! Please click here to contact your local BIC® office to collect your prize.
If your number is not shown here, don't worry, there are more attractive prizes to be won every fortnight, plus a grand draw of a 4 days 3 nights trip to Paris for two with accommodation! Submit your particulars now to enter our grand draw. Happy Winning!
PRIZE: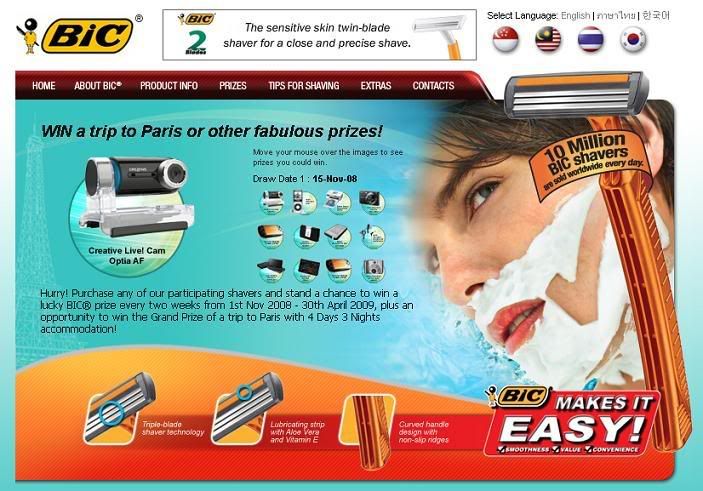 DEADLINE: 30 April 2009
WEBSITE/URL: http://www.vote4bic.com/
Terms & Conditions
1. The "Vote 4 BIC" & 'Win a Trip to Paris' promotion is open to all consumers residing in Singapore, Malaysia, Thailand and Korea. All participants below 18 years of age are required to obtain parental or guardian consent before they submit for the lucky draw.
2. All employees of the BIC® Product (Asia) Pte Ltd as well as their respective immediate family members are not eligible to participate in the lucky draw.
3. The promotion is open from 1st November 2008 to 30th April 2009.
4. Multiple entries are allowed but each person is limited to one lucky draw prize only. Incomplete entries will be disqualified.
5. Entries can only be submitted through the completion of online registration page at http://www.vote4bic.com.
6. The grand draw will be conducted on 18 May 2009.
7. All winners will be notified via email and are required to collect their prizes by the date stipulated in the email.
8. All prizes are to be collected at the winner's local BIC® office:
Singapore
BIC® Product (Singapore) Pte. Ltd
60 Alexandra Terrace, The Comtech #05-05, Singapore 118502
Tel: 65 6227 3066
Fax: 65 6227 4150
Malaysia
BIC®-GBA Sdn Bhd
Level 2, Wisma DLS No. 6, Jalan Jurunilai U1/20 Hicom-Glenmarie Industrial Park, 40150 Shah Alam, Selangor, Malaysia
Tel: 03 55691418
Fax: 03 55691419
Korea
BIC® Product (Korea) Ltd
2F Taesuk Building, 275-5 Yangjae-Dong, Seocho-Gu, Seoul 137-130
Tel: 82 2 5734102
Fax: 82 2 5734502
Thailand
BIC® Product (Thailand) Limited
19th Floor Unit #898/31 SV City Tower II, Rama III Road, Bangpongpang, Yannawa, Bangkok 10120 Thailand
Tel: 662 682 7200
Fax: 662 682 7208