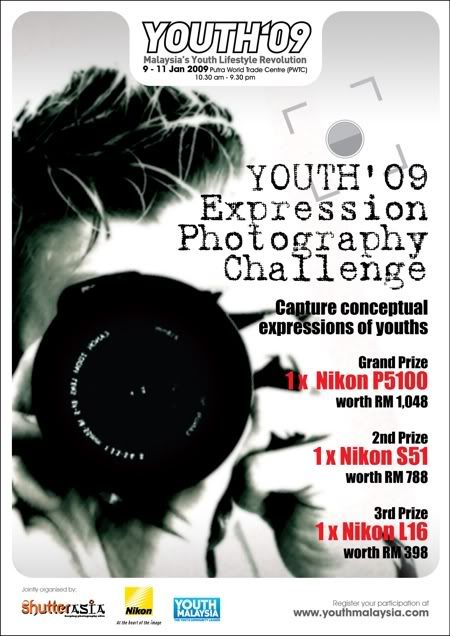 TITLE: [PHOTOGRAPHY+PARTICIPATE] YOUTH'09 Expression Photography Challenge
PRIZE: Stand a chance to win these prizes!
* 1 x P5100 = RM 1,048
* 1 x S51 = RM 788
* 1 x L16 = RM 398
DEADLINE: 9 January 2009
WEBSITE/URL: http://youthmalaysia.com/youth09/photography.php
DESCRIPTION:
ShutterAsia Shootout™
The ShutterAsia Shootout contest is a knock-out contest where you pitch your photography skills against another ShutterAsia member. Win, and you move on to the next round, lose and you're out of the competition.
How the contest works:
All registered contestants will drawn and paired with another contestant. Each pair will be competing with each other and each other only. Each round will last 30 minutes. After 30 minutes each contestant is required to submit 5 pictures and each picture must be labeled 1-5.
Terms and conditions:
1. This contest is open to all Malaysian Citizen or Malaysian Residents.
2. Photographs must be shot in Jpg.
3. Any digital camera can be used, as long it has a removable media which can be downloaded to a computer.
4. A maximum of 10 shots can be taken (image numbers must be sequential).
5. Each contestant will be given 30 minutes to shoot.
6. Picture's must be relevant to the theme for the round.
7. Judging and scoring points:
* Each contestant's photo will be judged against their opponent, Picture 1 from contestant A vs Picture 1 from contestant B; Picture 2 from contestant A vs Picture 2 from contestant B, etc. (5 point game)
* Judges will choose which of the competing pictures are better.
* The contestant with the most points wins the round.
8. Judging will be based on:
* Composition
* Relevance to theme
* Technical competence
* Creativity
9. Find out more about the judging criteria in the blog post at http://www.freakyther.com/?page_id=204.
10. Judges' decisions are final and no correspondence will be entertained.
11. By participating in this contest, contestants agree to bound by these rules and regulations as well as the decisions made by the Organizers and the panel of judges. Entries Failing to comply to the terms and conditions will be disqualified.
Note:
* Only winners of Round 1 will qualify for Round 2.
* All competition pairings will be done before the actual day, any contestant that fails to turn up, will be disqualified and the competitor will receive a bye to the next round
* Contestants that fail to meet the rules, will be disqualified and the competitor will automatically qualify into the next round