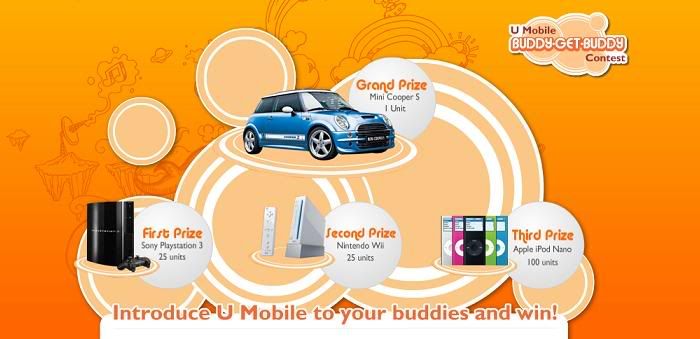 TITLE: [REFERRAL+PARTICIPATE] U Mobile Buddy Get Buddy Contest
PRIZE: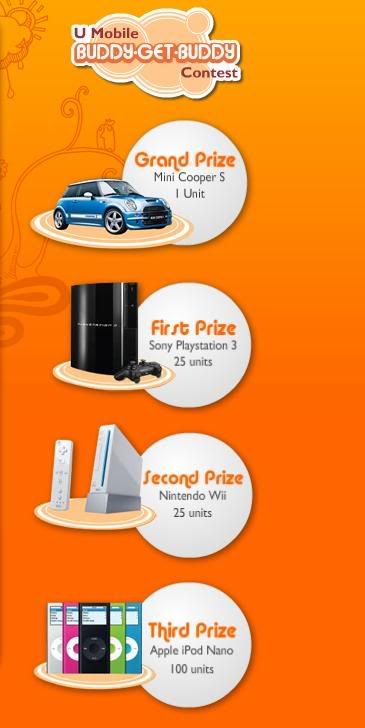 DEADLINE: 31 January 2009
WEBSITE/URL: http://promotions.u.com.my/bgb_intro.html
DESCRIPTION:
Bring your buddies to U Mobile and stand a chance to win cool prizes! Just get three or more buddies to sign up with us. U Mobile gives you *FREE calls and 1 sen/SMS within the community, so you can connect with many, many people.
How to win
* Get 3 buddies to sign up with U Mobile.
* Fill up the contest form and answer a simple question.
* Submit your entry.
* Wait for the good news! Winners will be notified through phone.
* This contest is open to all U Mobile subscribers residing in Malaysia, except employees of U Mobile, its agents and distributors.
* Participants must refer three (3) buddies (i.e. registered Postpaid/Prepaid subscribers from 11 November 2008 onwards) to U Mobile and answer a simple question.
* Every three (3) buddies referred to U Mobile will entitle the participant to one (I) contest entry or the respective multiple number of entries (i.e. 3 buddies = 1 entry, 9 buddies = 3 entries, etc).
* By participating in this contest, participants agree to be bound by the terms and conditions of the contest.
* U Mobile reserves the right to add, vary or amend these terms and conditions from time to time as we deem fit on website.
* The prizes will be given on an "as is" basis and are not transferable or exchangeable for cash or credit or otherwise, in part or in full.
* U Mobile reserves the right to substitute the prizes with that of similar value at any time without prior notice for any reason whatsoever.
* Participants must be 18 years old and above as of 31 December 2008.
* Participants' account must be valid and active (i.e. not terminated, suspended or passive and with credit balance) to be eligible for the contest and prizes.
* Photocopy of entry forms are acceptable.
* Participants can submit their contest form at the nearest U Mobile Customer Service Centres (Berjaya Times Square, Sunway Pyramid or Ipoh Parade) or mail it to this address: U Mobile Sdn Bhd PO. Box 10900, 50728 Kuala Lumpur.
* The closing date of this contest is 31 January 2009.
* Results will be announced after 31 March 2009.
* U Mobile reserves the right to disqualify any contest entry that is inconsistent with any of the above.
* Winners will be notified through phone.
* For more information, please visit http://www.u.com.my or call +6018 388 1318.