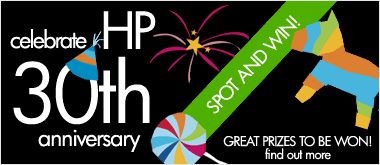 TITLE: [SPOT+SLOGAN] HP 30th Anniversary Spot and Win Online Contest
PRIZE: Prizes as follows;
1st Prize: Travel Warrant worth RM3000/= x 1 set
2nd Prize: HP Mini 2133 x1 unit
3rd Prize: HP iPaq 612 x1 unit
Consolation Prize: 4GB Pen Drive x 50 units
DEADLINE: 21 November 2008
WEBSITE/URL: http://h20468.www2.hp.com/RegisterForm.aspx?formid=737B3090-8F9D-46A2-88F2-A0179F16E506
DESCRIPTION:
It's HP Malaysia 30th Anniversary and we want you to join in the celebrations! Every purchase from the HP Online Store entitles you to some great treats including a limited edition shopping bag, as well as shopping vouchers for early bird customers. What's more, when you spend more than RM2000, you'll also stand a chance to win* a travel voucher worth RM3000 and many more awesome prizes!
1. Customers are entitled to enter the contest with a minimum purchase amount of RM2000/= from Malaysia Online Store.
2. Each customer can submit a maximum of 5 entries.
3. Contest windows: 22 Oct 08 – 21 November 08
4. Prizes as follows;
1st Prize: Travel Warrant worth RM3000/= x 1 set
2nd Prize: HP Mini 2133 x1 unit
3rd Prize: HP iPaq 612 x1 unit
Consolation Prize: 4GB Pen Drive x 50 units
Contest Mechanism
1. Spot the different from the image, state the answer in the online form; and
2. Complete a slogan within 20 words;
How many differences can you spot?*
HP is personal to me because…*