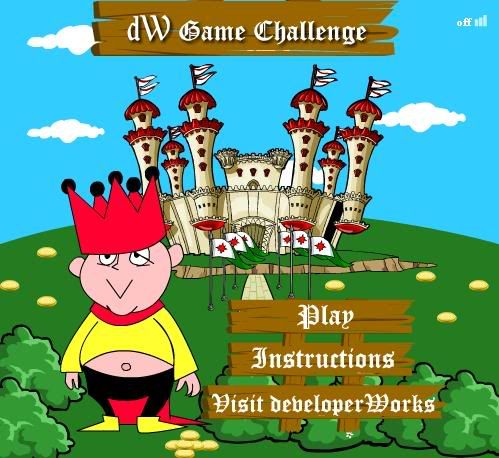 TITLE: [ONLINE+GAME] IBM ASEAN dW Game Challenge
PRIZE:
DEADLINE: 31 December 2008
WEBSITE/URL: http://www.challenge.dwconnect.net/web/dwc/home
DESCRIPTION:

Terms & Conditions
1. The ASEAN dW Game Challenge is open till 31 December 2008.
2. IBM and subsidiaries, affiliates and related companies and each of their respective officers, directors and employees will not be eligible for this contest.
3. IBM and its agents, affiliates and/or representatives are not responsible for any loss of entries due to any problems caused by telecommunication systems, or for entries received after the deadlines as a consequence of delays, interruptions, failures or overloads.
4. The top 3 winners are selected based on the 3 highest scores registered in the system.
5. The winners will be notified via email in February/March 2009.
6. In the event that a winner does not respond to IBM in the manner set out in 5 above, IBM reserves the right to disqualify the winner and select a replacement winner based on the next highest score submitted. In such circumstances, the replacement winner shall be contacted by IBM through email within a practicable timeframe and shall be required to respond to IBM in the manner set out in 5 above. In the event that the replacement winner fails to respond to IBM as required, then the provisions of this clause shall apply to the current winner in the same way as with original winner.
7. The prizes are not exchangeable for cash or items, in part or in full.
8. IBM reserves the right to change the contest mechanics and/or prizes at any time without prior notice. All decisions of IBM are final.
9. By entering into the ASEAN dW Game Challenge and accepting a prize, prize winners consent to IBM's right to picture, tape or portray them as prize winners, and to exhibit this material in any manner including in movies, on radio, on television or in print media without any compensation whatsoever except where prohibited by law. Prize winners also consent to IBM's right to use their name, voice or picture or the content of their entries in any manner deemed fit by IBM in its sole discretion.