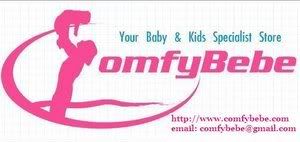 TITLE: [ONLINE+BLOG] ComfyBebe Contest
PRIZE: There will be great prizes to be won. Bags from Jin & Jacquie, Envirosax Bag, Rume Environment Bag, even SPCA 2009 Calendars too. There will be 3 main winners & 5 consolation prizes
DEADLINE: 30 October 2008
WEBSITE/URL: http://comfybebe.multiply.com/journal/item/374/ComfyBebe_Contest_Time_Again_-_CALLING_ALL_BLOGGERS
DESCRIPTION:
Hear ye !! Hear ye !!!
It's been a while since I organised a contest and out of the blue I thought I should have another one.
But this time, it's gonna be slightly different. No purchases needed, no models needed, all you have to is ……
* BLOG about ComfyBebe – Your Baby & Kids Store (gotta make sure it links back to
)
* Use your imagination !! Add pictures, add icons, be as creative as you can be!! Please note that no OFFENSIVE words will be tolerated. Thank you

* Blog as much as you want !! Meaning if you have 10 blogs out there.. blog 10 different times.. and each blog stands the chance to win a prize !!!
* You don't have to be a ComfyBebe customer to join.. anyone can !!!
* Open to all provided you have a valid Malaysian address for me to send your prize (Pls note that all prizes courier will be borne by winners)
* There will be great prizes to be won. Bags from Jin & Jacquie, Envirosax Bag, Rume Environment Bag, even SPCA 2009 Calendars too
* There will be 3 main winners & 5 consolation prizes maybe even more if the response is good

* So what are you waiting for?? Blog away !!!
* Closing date is 30th October 2008.
* Send in your entries by email to
with
1. Your Name
2. Blog Name
3. Blog Title
4. Blog LINK (very important…LOL!!)
5. Your address and contact no
…..with the email heading titled "COMFYBEBE BLOG CONTEST"
NOTE : Each email received is counted as one entry. So if you have blogged 10 times, email me 10 times ok
GOOD LUCK and HAPPY BLOGGING !!
For more info or queries, email me at