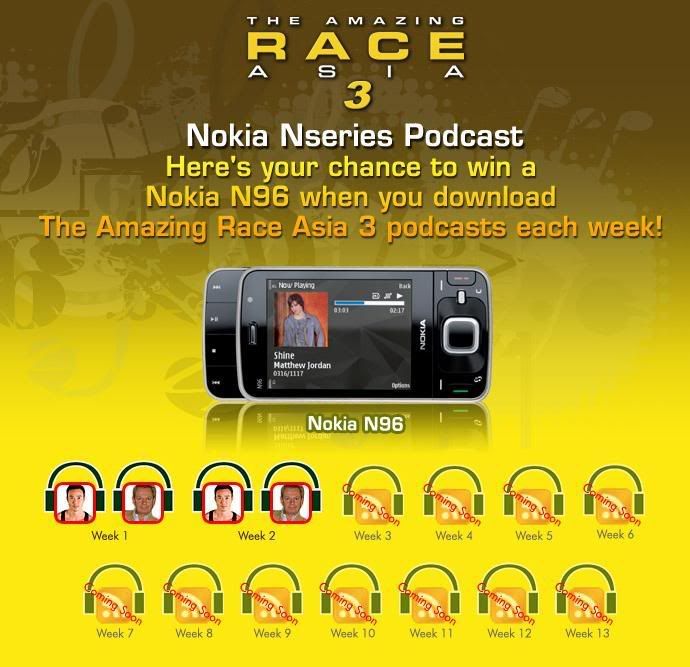 TITLE: [ONLINE+LUCKY DRAW] The Amazing Race Asia Nokia Nseries Podcast
PRIZE: one (1) Nokia Nseries phone
DEADLINE: 30 November 2008
WEBSITE/URL: http://amazing-race-asia.axn-asia.com/season3/promotions/nokia-podcast/
DESCRIPTION:
OFFICIAL RACE RULES
By sending an entry and therefore participating in the online race, each participant agrees to follow these Official Race Rules and to be bound by any decisions made by AXN, including any interpretations of these Official Race Rules.
TO ENTER:In order to enter the race, each participant must register as an AXN Asia online member by completing the Membership Registration form posted on
(the "Website") within the registration period
The contest begins on 12 September 2008 at 12:00am Singapore time and ends on 30 November 2008 at 11:59pm Singapore time. Each entry must be received no later than the deadline of 11:59 PM on 30 November 2008 in order to be eligible for the Grand Prize drawing.
PRIZES:
1. Grand Prize: A designated representative of AXN will select one (1) prize winner and one (1) alternate winners for one (1) Nokia Nseries phone each from a random drawing to be held at the offices of AXN in Singapore on or about 6:00 PM Singapore time on 7 December 2008. The decisions of AXN's representatives shall be final and binding on all aspects of the contest. It is not necessary for participants to be present at the drawing to win.
ELIGIBILITY AND CONDITIONS:
i. Participant or participant's household must be a cable subscriber, telecasting AXN.
ii. Participants must be citizens or legal residents of countries in Asia where AXN is available.
iii. Employees, agents, branches and promoters (including their immediate family members) of AXN, and its divisions, affiliates and subsidiaries, and others associated with the contest, are not permitted to participate in the contest.
iv. Each person can only register once per unique email address. In the event of dispute, only the entry submitted by the authorized account holder of the e-mail address at the time of entry, will be deemed eligible for entering the contest. "Authorized account holder" means the natural person who is assigned to an e-mail address by an Internet access provider, online service provider, or other organization (e.g., business, educational institution, etc.) that is responsible for assigning e-mail addresses for the domain associated with the submitted e-mail address.
v. No purchase or registration fees are necessary. Participants are responsible for all other costs associated with contest entry (e.g. internet connection/usage fees) including taxes if any.
vi. AXN and its agents, affiliates and/or representatives are not responsible for any loss of entries due to any problems caused by telephone lines or systems or internet service providers, for entries received after the deadline as a consequence of telephone or internet service delays, interruptions, failures or overloads.
vii. Each prize winner will be informed by telephone, email or regular mail. Initial contact will be followed by delivery of an official notification letter. Each prize winner must confirm acceptance of their prize immediately with AXN. If AXN does not receive an answer from a prize winner within two (2) working days after initial contact is made by AXN, except when such period is extended pursuant to local law or AXN's sole discretion, such prize winner will be disqualified. If a prize winner is disqualified for this or any other reason, such as being found ineligible or failing to comply with these Official Contest Rules, then the first alternate will receive such prize instead, as will each of the subsequent two (2) alternates until all prizes have been distributed. If a prize remains unclaimed, a second drawing will be conducted following procedures identical to the initial drawing. AXN and its agents, affiliates and/or representatives will use their best efforts to contact prize winners but will not be responsible or liable in any way whatsoever if prize winners cannot be reached by telephone, email or regular mail within the two (2) day period. Winners do not become official until all entries are validated. All decisions of AXN are final and irrevocable.
viii. AXN and contest sponsors are responsible for all prizes listed above. No other parties, including without limitation, Sony Corporation of Japan, Sony Corporation of America, Sony Pictures Entertainment Inc., CPT Holdings, Inc. and their respective subsidiaries, affiliates, employees, agencies and branches, shall be responsible for any prizes.
ix. Except for the prizes themselves, all other costs are the responsibility of each prize winner. AXN and contest sponsors do not cover any other costs.
x. Prizes cannot be transferred, negotiated, refunded or exchanged, and by no means will a cash equivalent be given. Only a prize winner and not any other person or agent, may claim a prize. Prize winner will need to present proof of identification to collect prize.
xi. AXN has the right to substitute designated prizes with other prizes of similar or equal value in case it is necessary. Prizes may vary according to availability.
xii. All prizes will be awarded pursuant to these Official Contest Rules. All taxes in connection with prizes are the sole responsibility of each prize winner, unless provided otherwise in accordance with applicable law and regulations.
xiii. By entering into the contest and accepting a prize, prize winners waive the copyright and consent to AXN's right to picture, tape or portray them as contest winners, and to exhibit this material in movies, radio, television or print media without any compensation whatsoever for advertising and publicity purposes, except where prohibited by law. Prize winners also consent to AXN's right to use their name, voice or picture, or the content of their entries.
xiv. Participants release AXN and its respective divisions, affiliates, subsidiaries, directors, officers, employees and agents, including without limitation, Sony Corporation of Japan, Sony Corporation of America, Sony Pictures Entertainment Inc., CPT Holdings, Inc. and their respective subsidiaries, affiliates, employees, agencies and branches, as well as all contest sponsors and all others associated with the development and execution of this contest, from and against any and all liability with respect to or in any way arising from this contest and the awarding and use, misuse or possession of any prizes, including liability for personal injury, except where prohibited or limited by law.
xv. Awarding of each Grand Prize shall be conditioned upon each Grand Prize winner signing an Indemnity and Release of Claims form provided by AXN, which shall release AXN of all liability, to the extent permitted by law. Failure to complete and sign any documents requested by AXN may result in disqualification and selection of an alternate winner.
xvi. The contest is void where prohibited by law. All relevant national and local laws apply
xvii.
Please forward any questions or comments regarding the contest to the following email address:
amazing_race_asia@axn-asia.com