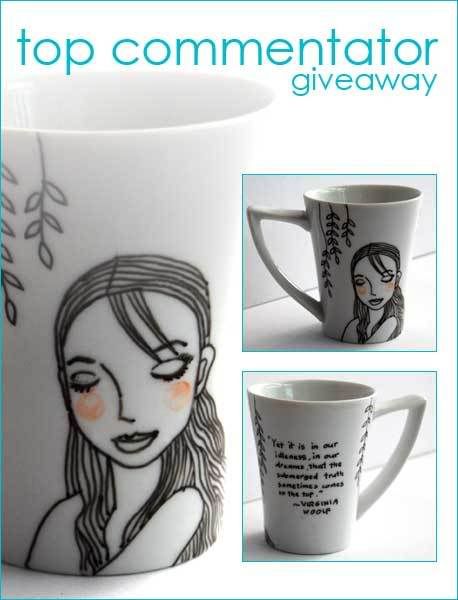 TITLE: [ONLINE+PARTICIPATE] Emilia Yusof Sept Giveaway
PRIZE: a porcelain mug
DEADLINE: 30 September 2008
WEBSITE/URL: http://emilayusof.com/?p=3208
DESCRIPTION:
Dream I | Porcelain paint on porcelain mug
Above mug is my gift to the September's Top Commentator. It's a porcelain mug, painted by me using Pebeo porcelain fine point marker. The paint won't come out, as the mug has been baked in the oven. I painted a picture of a dreamy woman on the mug with Virginia Woolf's thoughts on dreams at the back ~ "Yet it is in our idleness, in our dreams, that the submerged truth sometimes comes to the top."
In addition to the mug, the top one will also get 1000EC credits!
There'll will be another dreamy woman mug (Dream II) for November's Top Commentator. As for October, I have a different kind of contest for all of you! Stay tune!
OK, for EntreCard Top Dropper, I have 2500EC Credits waiting for you! Yay!