TITLE: [ONLINE+BLOG] AMBP Malaysia, 50+1 years and loving it Contest
PRIZE: 25 copies of the book. 50+1 Malaysia.
DEADLINE: 16 September 2008
WEBSITE/URL: http://allmalaysia.info/ambp/editor/permalink.asp?id=51
DESCRIPTION:
One of our bloggers QuaChee (his blog:
http://www.quachee.blogspot.com/
), being the true patriot that he is, has published a book called 50+1 Malaysia, in conjunction with Malaysia's 51st Independence Day. The book is a wonderful synopsis of what makes Malaysia, well Malaysia.
It's divided into seven sections (Food, Places, Things To Do etc), and keeping to its theme of '50+1′, each of these sections list 51 items that are uniquely Malaysian. For instance, under the section 50+1 Truly Malaysian, you'll find entries for Malaysian colloquial expressions (aiyo, syiok and boss); Malaysian textile and fashion (kebaya, songket batik), as well as Malaysian wildlife (tapir, Sarawak hornbill, orang utan).
To learn more about the book you can head on over to its 'official' website, the malaysia page.
To support QuaChee's admirable endeavour (as you should, being a fellow Malaysian blogger and all), we're giving away 25 copies of the book.
Here are the steps you have to take to win a copy of 50+1 Malaysia:
1) Write a paragraph (keep it short and simple), about your love for Malaysia, by using the following 5 + 1 words (Five compulsory + one of your choice):
Compulsory Words: Malaysia, 50+1, Merdeka, alamak, mamak
And choose at least one of these:
badminton, aiyo, orang utan, ah long, ang pow, 4D, beca, Malaysia Boleh!, nasi lemak, batik, Angkasawan, Lee Chong Wei, Michelle Yeoh, Mawi, KLCC, durian
2) Post up this pic: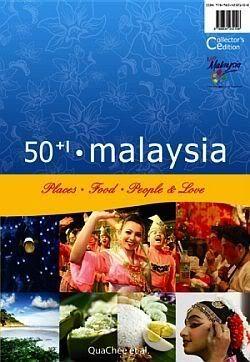 3) Link your post to
.
…all on your blog. Then send the link to that particular blog post as a comment here. Best 25 entries win the books.
You've got until Sep 16, 2008 to complete the above tasks.