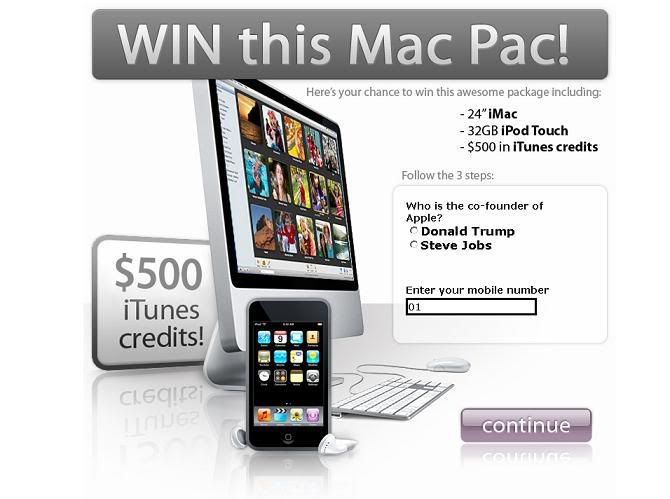 TITLE: [SMS+QUIZ] Wixawin Win this Mac Pac Contest
PRIZE: Refer ad
DEADLINE: 31 December 2008
WEBSITE/URL: http://www.winthisnewprize.com/my/ads/macpac.aspx
DESCRIPTION:
*This is a Wixawin trivia game promoted by TMG B.V. Wixawin is not affiliated with, sponsored by or endorsed by any of the listed products or retailers. Trademarks, service marks, logos, (including, without limitation, the individual names of products and retailers) are the property of their respective owners. | Stop service? Text 'stop' to 36181| Subscription: 5 msg per month, RM4.00 per msg received. Competition ends 31-12-'08 | Age: 18+ only – ask bill payer's permission | Helpdesk: 03-20722617 | This service operates according to the Malaysian code of conduct for SMS services. | By sending a sms to 36181, you acknowledge that you have read and understood the 'Terms & Conditions' and agree to be bound by these 'Terms & Conditions' | Service Provider: Sybase 365 Asia Sdn Bhd.
Terms and Conditions – Trivia subscription service
1. The "Text & Win Subscription Service" is provided by WIXAWIN. Powered by: Sybase 365 Asia Sdn Bhd. Helpline number: 03-2072 2617
2. By sending a sms to 36181 you acknowledge that you have read and understood and agree to be bound by these conditions. If you do not accept these conditions, you must not enter the competition.
3. The 'Text and Win Subscription Service' is open to Malaysian residents over the age of 18 years or with parental approval. Employees, service providers and agents of WIXAWIN and their immediate families are not permitted to enter the Text & Win Subscription Service.
4. If you send an answer via sms to 36181 you enter both a quiz and a subscription service. You also agree to receive non-rated marketing messages from WIXAWIN or third parties via SMS on a weekly basis.
5. The cost of receiving a sms for the quiz or subscription service is RM4.00. The cost for sending a sms will be at the standard sms rate. If your mobile phone provider applies a surcharge for sending or receiving a (premium) sms, this will be in addition to the standard costs. You will need to check with your provider to determine if there are additional costs.
6. The quiz consists of two rounds: a qualifying round and a knock-out final round.
7. The qualifying round consists of three questions.
8. The knock-out round is played to determine the winner in case there are multiple qualifying round winners. The final round is a knock-out, with a maximum of two questions. If there are still multiple contestants left after the first question, the second question is an open question. The winner will be the first individual to send in the correct answer, or, if no individual sends in the correct answer, the individual who has the answer that is closest to the correct answer. This information will be announced along with the questions. In the knock-out final, answering a question incorrectly or after the deadline eliminates you from the final. Only the active subscribers will be invited to play the knock out final.
9. If there is a deadline by which an answer must be received, this will be mentioned in the question that is sent via sms to you.
10. If you do not answer a question in the knock-out final, you will not receive any further questions and you will be eliminated.
11. There is no restriction on the number of times you may enter the quiz. However, each mobile phone number can receive only one place in the knock-out final.
12. The determination of the winner by WIXAWIN will be final. Entrants will have no right of appeal.
13. Winners will be contacted via a phone call to their mobile telephone number. If the winner does not answer their phone after two attempts, the prize will be allocated to the participant in second place. The winners of all Text and Win Subscription Services are announced on this website.
14. If for some reason beyond WIXAWIN's control, it is not possible to supply the prize as advertised, WIXAWIN will supply a substitutable item of equal or greater value.
15. The prize is awarded within 28 days of the closing date for the quiz.
16. Winners are required to send a confirmation email to
stating their current postal address their full name and mobile number. These details are checked against WIXAWIN's records. If the confirmation email is not received by WIXAWIN 28 days after the winner is first contacted, the prize is deemed forfeited. Prizes cannot be issued without this email confirmation. Prizes will only be sent to the address specified unless otherwise indicated by the winner. Prizes returned to WIXAWIN's unclaimed are deemed forfeited and will not be reissued at a later date.
17. The subscription service consists of five messages sent to you per month. The messages inform you of new quizzes that begin two – three times per month.
18. You can opt out of the quiz and subscription service at any time. To do so, send a text message stating "stop" to 36181 (standard SMS costs may apply).
19. There are no other obligations, such as an obligation to purchase goods or services, connected to participation in the Text & Win Subscription Services.
20. WIXAWIN will collect personal information about entrants for the purposes of conducting the Text and Win Subscription Competition and awarding prizes. Data may be passed to Malaysian mobile operators upon their request. Also the Provider reserves the right to send free of charge marketing messages for WIXAWIN or third party promotions purposes to customers who become subscribers.
21. If the Text & Win Subscription Service is not capable of running as planned due to any reason (including, but not limited to fraud, a state of emergency, natural disaster, war, technical failures or any other causes) WIXAWIN reserves the right to cancel, modify, terminate or suspend the Text & Win Subscription Service.
22. You release and agree to keep WIXAWIN indemnified from any claim, cost, demand, tax, liability or damage suffered or incurred by WIXAWIN or its directors, employees or agents, arising out of entry into the Text & Win Subscription Service.
23. WIXAWIN is not responsible for any technical error that may occur during the Text & Win Subscription Service. This includes, but is not limited to, any omission, interruption, deletion, defect or delay in operation or transmission or failure of any telephone, mobile or satellite network.
24. WIXAWIN is not responsible for any lost, late or incomprehensible entries in the quiz.
25. WIXAWIN is not responsible for any tax implications that may arise from winning a prize in the quiz. You should seek independent financial advice about such matters.
26. Except for the promotion of the WIXAWIN services on this website, these services are also promoted on other websites. Such promotions on other websites take place by and under the responsibility of third parties. WIXAWIN can not control such promotions and to the extent permitted by law, it herewith excludes all liability for damage that results from or is otherwise connected to such promotion by third parties.
27. WIXAWIN reserves the right to amend, revise, update, limit or extend these Terms and Conditions at any time without prior notice. It is therefore important for all participants to regularly check these Terms and Conditions. A participant's participation and continued participation in the Service will constitute acceptance of these Terms and Conditions and the amendments thereof.
28. Together with other terms and conditions sent by SMS to you in the course of the Service, these Terms and Conditions constitute the entire agreement between you and WIXAWIN.
29. This Service and these Terms and Conditions shall be governed by Malaysian law.
30. WIXAWIN is a service of TMG B.V. (Address: Postbus 76253, 1070 EG Amsterdam, The Netherlands).