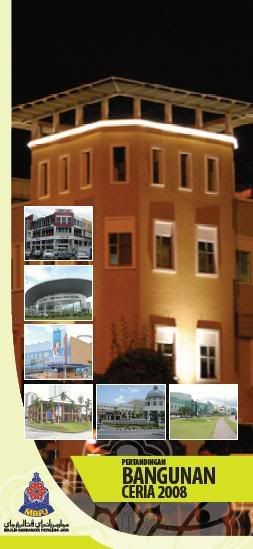 TITLE: [PARTICIPATE] Pertandingan Bangunan Ceria 2008
PRIZE: Developers and building owners stand to win prizes worth RM25,000 for beautifying their buildings.
DEADLINE: 30 August 2008
WEBSITE/URL: http://www.mbpj.gov.my/CeriaBangunan.pdf
DESCRIPTION:
TUJUANKATEGORI BANGUNAN YANG DIPERTANDINGKANSYARAT-SYARATMenjayakan usaha Majlis 1. kearah menjadikan Petaling Jaya bandar indah dan selesa.
Memberi pendidikan dan pengetahuan 2. mengenai pentingnya membuat penyelenggaraan bangunan.
Menimbulkan minat dan kesedaran 3. warga Petaling Jaya untuk menceriakan bangunan sendiri.
Merapatkan lagi hubungan 4. penduduk Petaling Jaya dengan pihak pentadbir Majlis.
Memberi daya tarikan tambahan kepada 5. pelancong untuk melawat Petaling Jaya khasnya dan negeri Selangor amnya.Pertandingan ini terbuka kepada semua 1. pemilik bangunan di Petaling Jaya kecuali kakitangan dan ahli keluarga Majlis.
Penyertaan adalah mengikut kategori 2. bangunan seperti dinyatakan.
Penyertaan hendaklah dihantar melalui 3. pos atau dihantar sendiri bersama gambar bangunan sebelum dan selepas diceriakan diwaktu siang dan malam. Gambar bangunan yang dihantar mestilah berukuran A4. Gambar yang dihantar tidak akan dikembalikan dan ia menjadi hak milik penganjur dan penganjur mempunyai hak mutlak untuk menyiar atau mempamerkan tanpa notis atau bayaran kepada peserta.Bangunan yang dipertandingkan 4. hendaklah mempunyai ciri-ciri berikut:
Kombinasi, penyesuaian i. dan penyeragaman warna dengan aktiviti dan bangunan disekitarnya.
Reka bentuk bangunan yang ii. mengambil kira 'aesthetic value' dan mengutamakan keselamatan dan pematuhan kepada undang-undang berkaitan.
Menceriakan bangunan iii. dengan pelbagai dekorasi seperti landskap , lampu hiasan dan lain-lain.
Mengaplikasikan ciri-ciri bangunan iv. mampan seperti penyediaan kemudahan awam, kemudahan OKU dan lain-lain.
Pengadilan dan penilaian ke atas bangunan-5. bangunan yang dipertandingkan akan dilaksanakan oleh panel penilai pada bila-bila masa sepanjang tempoh penilaian.
Keputusan penganjur adalah muktamad 6. dan dalam hal-hal yang tidak dapat dielakkan ia berhak meminda syarat dan peraturan tanpa notis terlebih dahulu.
Bukti penghantaran pos tidak dianggap 7. sebagai bukti penerimaan. Hantarkan penyertaan anda sebelum atau pada 30 Ogos 2008 ke alamat berikut :-
JABATAN KAWALAN BANGUNANMajlis Bandaraya Petaling JayaJalan Yong Shook Lin46675 Petaling Jaya.Selangor Darul Ehsan.Bangunan Bukan Kediaman 1. Bangunan Kerajaan 2. Bangunan Industri 3. Bangunan Institusi 4. Bangunan Komersial i Ketinggian melebihi 6 tingkat ii Ketinggian melebihi 2 tingkat dan kurang 6 tingkat iii Ketinggian kurang 2 tingkatANUGERAH KHASAnugerah ini adalah untuk bangunan yang memasang lampu hiasan paling menarik dan kreatif diwaktu malam. Ia terbuka kepada semua Kategori bangunan.* Satu hadiah utama akan diberi kepada setiap kategori bangunan yang dipertandingkan.
Untuk keterangan lanjut sila hubungi:Puan Hjh. Siti Azurah bt. Mohd GhazaliPuan Hjh. Mahlela bt. Mohd TabotTel: 03-79563544 samb. 244/242
http://www.nst.com.my/Current_News/Streets/Friday/Stories/2278040/Article/
Seeking PJ's most vibrant building
Dr Mohd Nasir (right) launching the competition at The Curve. With him are Puasa Mat Taib and Boustead Curve Sdn Bhd director Datuk Ghazali Mohd Ali (left).
PETALING JAYA: The Petaling Jaya City Council is celebrating its second birthday this month with a contest to find the "Most Vibrant Building" in the city.
Developers and building owners stand to win prizes worth RM25,000 for beautifying their buildings. And if the contest for commercial buildings is a success, the council might consider a similar contest for residential properties next year.
"The judging criteria are the combination of colours of the building and its surroundings, its aesthetic value and its safety features. And being disabled-friendly would be a plus point," said MBPJ deputy president Puasa Mat Taib.
"Building owners must be creative in designing landscape features and lighting that enhance the look of a building.
"The panel of judges will be from the city council itself, along with representatives from Malaysian Architects Association, the Real Estate and Housing Developers Association, Universiti Teknologi Mara and sponsors."
The competition was launched on Tuesday by Kota Damansara state assemblyman Dr Mohd Nasir Hashim at The Curve, Kota Damansara.
The contest is divided into several categories — government buildings, industrial buildings, institutional and commercial buildings. There will also be a special award for buildings that are lit up at night.
The closing date for entries is Aug 30. For more information contact the Building Control Department at 03-79563544 ext 244/242.
http://thestar.com.my/metro/story.asp?file=/2008/6/27/central/21647509&sec=central
Beautify your buildings
By DEBBIE CHAN
BUILDING owners are encouraged to beautify and upgrade the facade of their properties in conjunction with the 2008 Beautiful Buildings Competition (Pertandingan Bangunan Ceria 2008).
It is also a platform for Petaling Jaya folks to take part in the local authority's effort to create a conducive, safe and beautiful surrounding for the city.
The competition, organised by Petaling Jaya City Council (MBPJ), was launched by Kota Damansara state assemblyman Dr Nasir Hashim at The Curve, Mutiara Damansara.
"The Curve was chosen as the place to kickstart this competition because the mall is one of the many tourist spots in Petaling Jaya," said MBPJ secretary-cum-acting mayor Puasa Md Taib.
Make buildings beautiful: Director of Boustead Curve Datuk Ghazali Mohd Ali (left), Puasa and Nasir at the launching ceremony of the competition.
There are four categories in this year's competition – government buildings, industrial buildings, institutional buildings and commercial buildings.
The commercial buildings are then divided into three more categories, six storeys and above, two to six storeys and two storeys and below.
A special award will also be given to the building with the most interesting lighting decor at night.
"Next year, we will introduce the competition to residential properties," Puasa said.
The buildings will be judged based on combination, suitability, safety, adherence to building regulations, aesthetic designs, landscape designs, lightings and general decor.
"We introduced this competition last year to give PJ a facelift especially when it comes to the older buildings.
"The competition motivated a lot of owners to repaint and upgrade their properties," Puasa said.
"This programme is more than just a competition, it is a continuous effort by MBPJ to encourage and ensure owners maintain and upgrade their properties to keep the city looking good," he said.
MBPJ will be giving away RM22,000 worth of prizes in this competition.
To take part, log on to
.
The closing date for the competition is Aug 30.