PRIZE: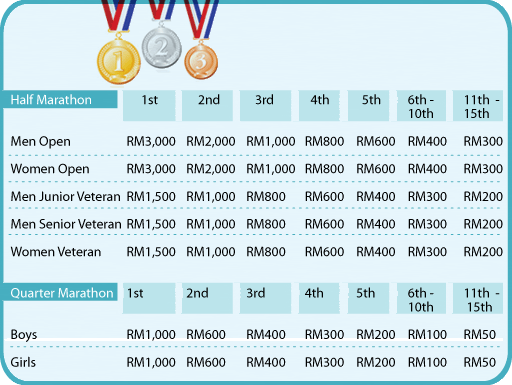 DEADLINE: 2 November 2008
WEBSITE/URL: http://penangmarathon.gov.my/blog/about/
DESCRIPTION:
Application
When is the application deadline?
Online registration for the 2008 Penang Bridge Marathon will be accepted until November 2, 2008 (14 days prior to the race day). To register please click here.
Can I register on race day?
No. We do not accept registration on the race day.
Can I send my friend to register and pick up the running package for me?
Yes. Your friend will need to show us a copy of your final confirmation.
I have paid for the race, but due to family problem I am unable to compete. Can I defer my participation to your 2009 race?
No. We do not offer deferments or refunds.
May I change my race from Half Marathon to Fun Race or vice versa?
Yes, as long as you do so before November 2nd 2008.
How many participants do you expect?
There were 20,000 participants in the 2007 Penang Bridge Marathon. This year, even with our limited time constraint, we expect to reach our 20,000, so please register early.
Do I need a qualifying time to enter the Penang Bridge Marathon?
No.
Are there any Corporate Team or Team Relays?
No, there are no team relays.
Why there is no full marathon for this year (2008)?
Due to time constrains, we regret that full marathon is not available this year. Full marathon will be available in year 2009.
On the Race Day
Can I run without a bib number?
No.
What are the types and where are the locations for the replacement fluids?
Fluid stations are set up throughout the length of the course. Water will be supplied at race start and replacement fluid will be offered along with water, beginning at kilometer 2 to 3.
What is the average Temp at Start Time?
Approximately 25° C start time and at the finish about 30° C.
What are the rewards for the race?
Please check the site for specific award and prize information.
Where can I get a map of the race course?
There is a course map on this website.
How long will the finish be open?
The finish will be open for 7 hours.
How can I review results at the end of the race?
Online information will be posted online 48 hours from the time of the final finisher.
About Penang
While I'm in Penang, I would like to visit a few places.
One of the things that makes Penang great is our Unesco World Heritage status. Information on tours and itineraries are available at this site.
For Spectators, Press, Vendors and Shoppers
I am not running but I would like to cheer my husband.
The race begins at Queensbay Mall. There is plenty of room for cheering along the street at the start, or along the finish line.
I'm with the press. Can I contact interview with the runners?
Yes. We will prepare a press stand on the race day. Please conduct your interview there.
How can I obtain a booth or insert an item into the runners' goodies bags?
Click here for details.