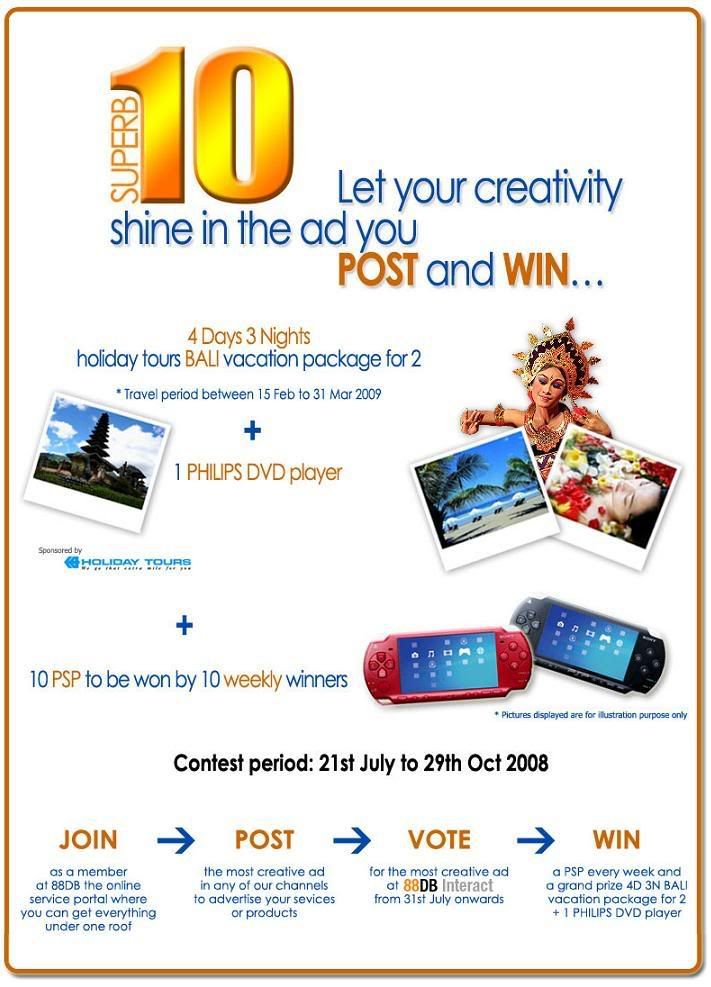 PRIZE: Refer ad
DEADLINE: 29 November 2008
WEBSITE/URL: http://my.88db.com/my/HTML/en-us/indexmkt/superb10/index.html
DESCRIPTION:
Put your creative ideas into the ad you post for a chance to win a PSP every week for 10 winners
and qualify to participate in the final SUPERB 10 contest.
• Contest periods from 21st July 2008 to 29th November 2008.
• The contest will take place for a period of ten weeks.
• Members will be given the next 10 days to vote for the Top Ten ads.
• Voting ends at 5pm on the 10th day of each week the contest takes place.
• All top 10 ads are entitled to get 10 days priority listing.
• Weekly Top 10 winners will be posted on the website for voting from 19th Nov – 28th Nov 2008 for a chance to win the grand prize.
• Grand Prize winner will be announced on 29th Nov 2008, before 5pm on 88db website.
• Winners will be notified via email or phone call indicated in their registration information.
• Winners must present a copy of IC when collecting prize.
• Winners are not allowed to re-enter the contest.
• Each member is entitled for a maximum of 2 ads.
• Every winner is eligible to one winning prize only.
• All ads must have genuine information.
• All entries have to include full company details and pictures. Fake information and pictures are immediately disqualified and removed.
• All entries that do not comply with the contest criteria as stated are not eligible to win, regardless of the number of votes.
• Jobs DB (88DB.com) reserves the right at its absolute discretion to vary, delete or add to any of these Terms and Conditions from time to time without prior notice.
• Jobs DB (88DB.com) shall not be held responsible for any losses, damages, costs and expenses that may arise or occur in connection with the contest, including any damage to an entrant's phone equipment, system, software, or any combination thereof as a result of their participation in this contest.
• Employees of JobsDB.com and 88DB.com are not eligible to join the contest.
• Jobs DB (88DB.com) reserve the right to substitute any prize with another of similar value without prior notice. All prizes are not transferable, non-refundable and non-exchangeable for cash.
• To the fullest extent permitted by law, 88DB hereby expressly excludes and disclaims any representation, warranty, or endorsement, express or implied, written or oral, including but not limited to, any warranty of quality, merchantability or fitness for a particular purpose in respect of the prizes.
• The judges' decisions in determining the winners will be final and no further correspondence will be entertained
• The details of winners will be posted at
. The winners will be contacted by 88DB staff within 30 working days. Participants are encouraged to keep their handphone activated during this Notification Period. In the event 88DB staff is unable to contact a particular winner within 2 consecutive working days, that Winner will automatically be disqualified and the next winner will be selected. The Winners that are disqualified pursuant to this clause hereby agree that they shall not make any claim and/or demand whatsoever to 88DB for prizes. Once all the Winners have been contacted, the Winner's list will then be posted on 88DB website within 10 working days.
• 88DB reserves the right to cancel, terminate or suspend the Contest with or without any prior notice. For the avoidance of doubt, cancellation, termination or suspension by 88DB of the Contest shall not entitle the Participant to any claim or compensation against 88DB for any and 88DB shall not be liable and held responsible for all losses and/or damage suffered or incurred by the Participant as a direct or indirect result of the act of cancellation, termination or suspension by 88DB
• By participating in this contest, participants agree to be bound by the official Rules and Regulations and decisions of 88DB.
Holiday Tours – Terms & Conditions
———————————-
• This warrant is valid from 15 Feb 2009 to 31 Mar 2009.
• The warrant holder will bear the cost difference should item/s redeemed exceed the amount stated in the warrant.
• No refund will be given if the warrant is not fully utilized.
• All tours & air passages are subject to terms & conditions set.
• Warrant is not redeemable or exchangeable for cash.
• Validity period of the warrant cannot be extended.
• Original copy of the warrant must be produced at the point of redemption.
• No claims of any nature can be made against Holiday Tours & Travel Sdn. Bhd. & any other suppliers involved.
• Warrant must be redeemed minimum three (03) weeks prior to desire departure date.
• The redeem package must be from & assemble by Holiday Tours & Travel Sdn. Bhd.
• This warrant is transferable to the winner's immediate family member only, any other request will not be entertained.
• All partial or totally unused booked travel services are strictly non–refundable or transferable.
• Holiday Tours & Travel Sdn. Bhd. and other involved suppliers is NOT liable for death, injury, illness, damage, delay or other loss to traveler or property of any kind caused by an Act of God; war; civil commotions; labor trouble; terrorism, crime or other potential sources of harm; governmental interference; fire; or any other cause beyond reasonable control.
• Holiday Tours & Travel Sdn. Bhd. reserves the right to amend, modify and change the terms & conditions set on this travel warrant without further notice.