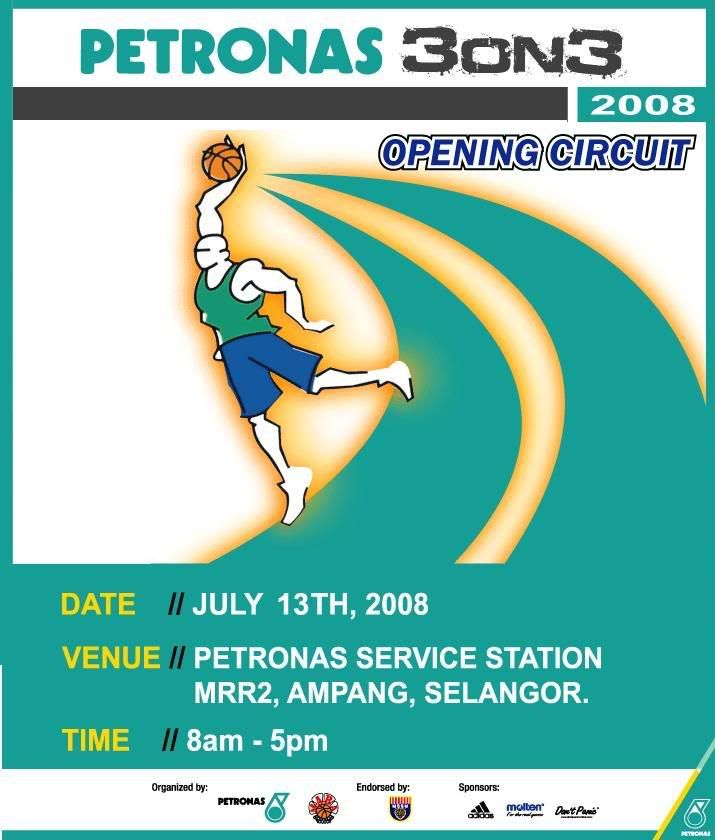 PRIZE:
DEADLINE: Refer ad
WEBSITE/URL: http://www.mymesra.com.my/index.php?ch=mmc_aboutus_news_events&pg=mmc_aboutus_news_events_cont&ac=55&tpt=mmc
DESCRIPTION:
The PETRONAS – MABA is back again! This time around, there will be 8 locations from 8 states selected, with tentative dates to host the competition. The locations comprise of 4 PETRONAS Service Stations (PSS) and 4 shopping malls / public places:
The PETRONAS 3 on 3 Basketball Championship is open to all boys and girls of the age 18 and below, from all races. Below are some terms and conditions of participation:
1. Each team of three will pay RM60 as entry fee.
2. Each player is allowed to participate in one category only.
3. There are four categories:
* 18 & under boys
* 18 & under girls
* 15 & under boys
* 15 & under girls
4. All participants will get one official sleeveless t-shirt / jersey and sponsored goodies.
5. It is a one day basketball carnival (8am – 5pm).
6. There will also be lucky draws, community and interactive activities for the public.
7. Minimum of 3 courts will be deployed for each venue.
8. The tournament is based on knock-out system.
9. Registration forms will be available at all State Basketball Associations and PETRONAS service stations / shopping malls involved.