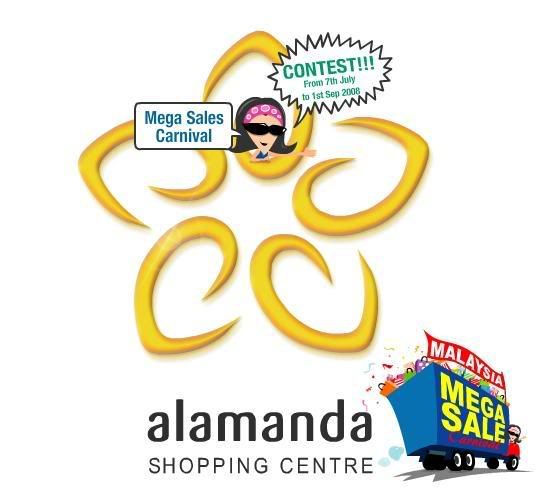 PRIZE: 8 Family Weekend Getaway Packages in Putrajaya Shangri-La
DEADLINE: 1st September 2008
WEBSITE/URL: http://www.alamanda.com.my/
DESCRIPTION:
1) This contest is valid from 7th July 2008 to 1st September 2008 withevery purchase of RM50 in a single receipt from any of the outlets inAlamanda Shopping Centre except Carrefour.
2) All entries should be submitted on-line via
3) Each entry must contained an original receipt number as proof ofpurchase.
4) This contest is open to all Malaysian residents above 18 years of agewith a permanent residential address in Malaysia except employees ofIndah Putrajaya Sdn Bhd, their appointed advertising agencies, tenantsof Alamanda and their employees, and their immediate families.
5) Entries will be disqualified if they are incomplete, illegible, late orwithout qualified proof of purchase.
6) All winners will be notified by phone and their names will appear in theofficial website at
. If the participants cannot becontacted within 3 working days from the announcement of results, thenext eligible entry will be selected.
7) Judge's decision is final and no correspondence will be entertained.
Alamanda reserves the right to use the winner's name, address,photographs and identification card number on all forms of publicityfrom time to time without further compensation. Winners may also berequired to attend the prize giving ceremony and/or publicity events andprogrammes.
9) Alamanda Putraya reserves the right to vary the terms and conditionshere in at anytime at its absolute discretion without prior notices.
10) Contestants are personally liable for any injury, damage claims arisingfrom entering this contest and / or in the usage and / or the claimingof prizes.
11) Prizes are not exchangeable for cash or kind.
12) Prizes must be claimed within 30 days of notice from the date theannouncement of the winners is made. Claiming of prizes after thesaid duration will be considered void.
13) Alamanda has the right to replace any prize with another prizeequivalent value without prior notice.
14) By the acceptance or receipt of the prize, the winner agrees to releaseand discharge Alamanda Putrajaya from any liability or damage due inwhole or in part to the award, acceptance, pocession, use or misuse ofthe prize of this contest.