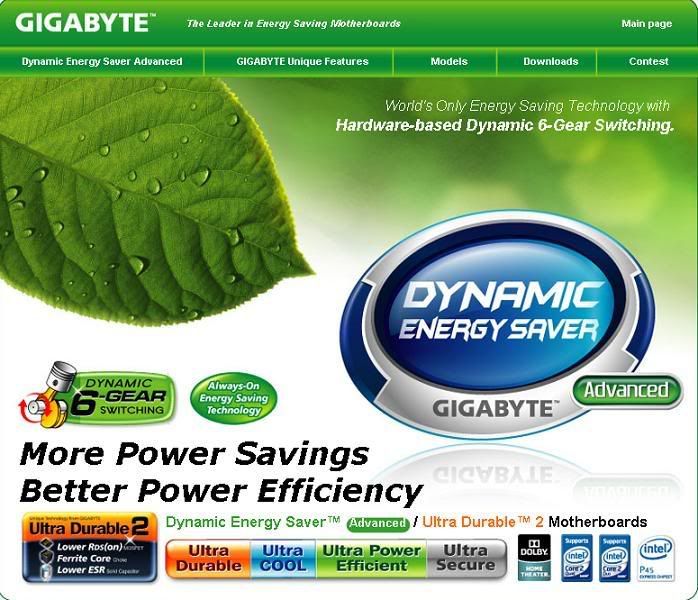 DEADLINE: Weekly
WEBSITE/URL: http://survey.lowyat.net/gigabyte/tech_080516_des_advanced.htm
DESCRIPTION:
Simply answer the following questions and stand a chance to win a GA-EP43-DS3 every week for 4 weeks.
1. What is GIGABYTE Dynamic Energy Saver (DES)?
A power saving feature control by a software utility.
A pure hardware device to improve power efficiency.
A combination of hardware and software technologies that enhance power efficiency and performance.
2. How many 'Gears' does GIGABYTE DES Advance offer?
2 gears
4 gears
5 gears
6 gears
3. How does DES help to save energy?
By automatically switching between 5 different gears to dynamically maximize efficiency.
By allowing the user to select three different CPU voltage options – Maximum Power Saving, Medium
Power Saving and Minimum Power Saving.
With a Dynamic Frequency option (CPU Throttling)
All of the above
4. What are the extra features that DES advance offered?
DES Advance offers 6 gears switching and support VRD 11.1
DES Advance can now be removed from task bar and will auto run the power saving function even when the
utility is closed.
DES Advance now support overclocking, overvoltage, and phase changing during overclocking.
All of the above
5. What are the unique features that Ultra Secure offers?
Security, manageability and flexibility that surpasses software-based encryption
Portable User Key to protect data when away from your system
Additional backup of user key in BIOS in case of misplaced key
All of the above