PRIZE:
DEADLINE: 2 July 08
WEBSITE/URL: http://www.eurofootball.com.my/EuroHeroChallenge.aspx
DESCRIPTION: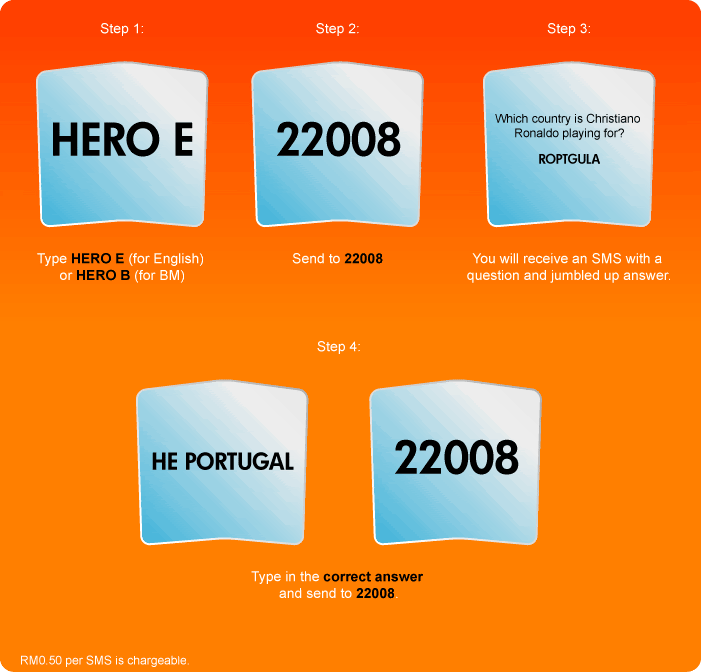 Come on! Take on the challenge and be the Hero that you are. It's easier than you think. Just unscramble the word given, complete all five rounds of the challenge and you're in the running to WIN great prizes!
Celcom Euro Hero Challenge Terms and Conditions
1. By participating in the Promotion, customers agree to be bound by these terms & conditions. Celcom Mobile Sdn Bhd (27190-A) shall hereinafter refer to as "Celcom".
2. This Promotion is open to all Celcom's customers. Employees and/or immediate family members of Celcom and/or its related companies are NOT eligible to participate.
3. The Promotion period will run from 26 May 08 until 2 July 08 ("Promotion Period").
4. Contestant who will be selected based on the most correct answers wins via SMS ("SMS Contest"). In the event where there is more than 1 winner, the selection of winner will be made based on the earliest submission received. The prizes for this SMS Contest are as follow:
i. Weekly winner take away 32″ LG TV – 6 weeks
ii. Grand prize winner enjoys a shopping spree in KLCC worth of RM 22,008.
5. The prizes won cannot be transferred, refunded or exchanged for cash or any kind whatsoever under any circumstances. Celcom reserves the right to substitute these prizes of similar value and higher value. Any further inquiries thereafter will not be entertained.
6. Winners shall be notified by telephone call to his/her mobile phone at the end of the Promotion period for prize collection. In the event if the winner(s) is not able to contact (for whatsoever reasons) within seven (7) working days after the initial attempt attempted, Celcom reserves the right to award the prizes to the next winner without being liable to the winner whatsoever.
7. Celcom reserves the right to use any medium Celcom deems fit at its sole discretion for the purpose of announcing the contests winners. Celcom reserves the sole and absolute right to use the information or publish any related matter to the entries including but not limited to the winner's names and photographs for the purpose of marketing without any cost incurred thereto.
8. Celcom reserves the right to amend, change or alter any part of the terms and conditions of this Promotion without prior notice. Celcom reserves the sole and absolute right to withdraw, amend and/ or alter any terms and conditions of the Promotion at any time without giving any prior notice and no compensation in cash or in kind shall be given.
9. Celcom's decision on the winner(s) is final and conclusive and no appeal or correspondence shall be entertained.
10. Celcom reserves the rights to disqualify any customer if found to be in breach of its obligations or any terms and conditions of this Promotion.
11. Celcom shall not be liable for any claims or losses of any nature, including but not limited to, lost of profits, punitive, indirect, special, incidental, or consequential damages or for other damages.
12. Celcom shall not be responsible or be held liable for any system, server or connection failure, interruption and delay in receiving messages or computer viruses, and any related claims of any nature, including direct, indirect, third party, consequential or other damages